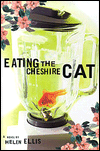 Earlier this year a blog I have been following
Pickles on Pizza
started "Blog Book Giveaways" This Book, " Eating the Cheshire Cat" is at its third destination with me and you could be next to win!  You must promise to give the book away on your blog when you're done.
This book was a page turner. It was dark and creepy but funny all at the same time. It is called "Eating the Cheshire Cat" It is written by Helen Ellis. 
I am reading it at the moment and the first chapter has me wanting to read more!

1. Leave a comment below to enter, I will pick a winner at the end of May
2. THE ONLY CATCH: You have to promise to give the book away on YOUR blog when you finish reading it. We have to share the love :)